For those of you who want the ultimate in glamor and luxury in your cosmetics products, Chanel Cosmetics may just be your match made in heaven. The cosmetics products offer sophistication and class to the stylish. Chanel Cosmetics products are packaged beautifully in sleek, black compacts with gold accents. The products are likely a bit more "dressy" than other makeup products you have in your drawer.
Chanel's signature fragrance, Chanel No. 5, is the most popular fragrance in the world. Chanel makeup products are following in the footsteps of Chanel's fragrance products. They are wildly popular among those seeking glamor and style. The brand has also begun to offer products from their skin care line, Precision.
Although priced somewhat higher than other department store brand cosmetics, Chanel makeup products are definitely something you'll want to splurge on when you can afford it. High end cosmetics lovers have labeled Chanel one of the best of the best. Both Chanel loyalists and newcomers alike would rather buy one product from Chanel than a dozen from a drugstore cosmetics brand. Though the products may require a bit of a splurge for many beauty lovers, most would agree that saving up for a Chanel makeup product here and there is more than worth it.
Official Chanel Cosmetics website: http://www.chanel.com/en_US/fragrance-beauty/Makeup-88484
A Review of Chanel Vitalumiere
As a woman, I am always on the look-out for a quality foundation that gives my skin all of the benefits that I need to have the most beautiful and perfect skin possible. Searching through hundreds of products that line the shelves, I came across Chanel Vitalumiere, and instantly knew that I had finally found a product that was worth spending money on. Not only that, but I knew that Chanel is a name that I can rely on for high quality.
No one has perfect skin, especially not me. I constantly am fighting those pesky little zits and blemishes that appear on my face, as I know almost every other woman out there faces as well. Well luckily this product can help with just about all of these problems. This foundation seems to glide on evenly and smoothly, as it seems to erase all of my imperfections and gives me the radiant skin that I have always wanted.
Chanel Cosmetics Vitalumiere boasts the ability to give you youthful looking skin as its anti-fatigue formula wakes up your face, allowing that radiance to shine through. As we age, our skin's radiance becomes dull giving our skin the appearance of being older than it actually is. However, we can fight this with products such as this foundation. It contains spf 15, which is beneficial everyday for blocking the harmful UVA/UVB rays that we are constantly exposed to.
So, the search is over for the perfect foundation. Chanel continues to create the highest quality products and lines, and the quality is evident once you try one of them. I have been so happy with this product, and I know that my satisfaction will be equaled by anyone who also buys and tries this foundation. Trust me, your skin will thank you for it!
Free Sample of Chanel's Sublimage La Creme Anti Aging Face Cream
During March, bring this printable coupon into The Bay department stores and redeem your coupon at any Chanel makeup counter for a free sample of their regenerating skin cream, Sublimage La Creme.
La Creme hydrates deeply and nourishes your skin. It also simultaneously firms and tones your skin as well. The creme contains a new patent pending ingredient that, according to Chanel, "allows for the creation of Enriched Planifolia PFA – an ultra-pure cosmetic active ingredient".
This promotion is good only until March 31st, or while supplies last!
Wedding Makeup Tutorial using Chanel Cosmetics
This tutorial shows some excellent makeup application tips for your wedding day or any special occasion. The tips are also important to remember for everyday use as well, ie: don't over do it with concealer, and metallic shadows. The tutorial uses makeup from the Chanel Cosmetics line.

Nature Gives You the Face you Have at Twenty…
"Nature gives you the face you have at twenty; it is up to you to merit the face you have at fifty." – Coco Chanel
Free Sample of Chanel Inimitable Mascara (UK Only)
This is one of Chanel's new mascara formulas. Click here, or on the picture to your right. Then, click on "skip intro" and you'll get to a page where you'll be able to print out a coupon for a free sample of their mascara.
This offer does not require any additional participation, surveys or purchases – you simply print the coupon out directly from their site.
However, please note that this offer is only valid for UK residents.
Chanel: Editor's Picks
Our top suggestions? We're in love with their lip glosses and skincare line.
Editor's Picks:
Chanel Precision Hydrating Masque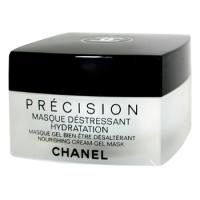 What's Your Favorite Cosmetics Line?
Nov 08 2009 | Categories:
Benefit Cosmetics
,
Bobbi Brown Cosmetics
,
Chanel Cosmetics
,
Clarins Cosmetics
,
Clinique Skincare & Cosmetics
,
Dior Cosmetics
,
Estee Lauder Skincare & Cosmetics
,
Lancome Cosmetics
,
LORAC Cosmetics
,
MAC Cosmetics
,
Nars Cosmetics
,
Shiseido Cosmetics
,
Smashbox Cosmetics
,
Stila Cosmetics
,
Too Faced Cosmetics
,
Urban Decay Cosmetics
,
Victoria's Secret Cosmetics
Hello beauties! Here is our newest poll!
With all the different cosmetics companies out there, we want to know which ones you can't live without. We've included the most popular higher end makeup brands (this list doesn't include drugstore brands). We'll be using the results from this poll to focus the majority of our product reviews and news updates on the cosmetics brands that you love the most.
If you don't see one of your fav high-end makeup lines on our list, choose "other" and then leave a comment to tell us which one you adore!
photo credit:
dreamglow
Loading ...
Wedding Day Makeup Tips Using Chanel Makeup
This video has some of the best wedding day makeup tips we've come across. Brides Magazine's Beauty Editor, Alice Guillemet, meets with Bridget, Chanel's Senior Makeup Training Manager, for expert wedding day makeup advice. With her special makeup tips, she covers tons of little things that brides often forget to take into consideration – everything from veils, to wedding colors to essential advice for wedding photography.
The video does highlight some Chanel products, so if you're a Chanel fanatic (like me!), you're in luck. If you prefer another brand, you can still use your own array of products and use the techniques they cover – since the tips in this video are essential. You'll definitely want to take a look!