Release Date:
July 20th, 2007
Nordstrom Exclusive
MAC's releases a Nordstrom Exclusive collection every year for the Nordstrom Anniversary Sale. This year, it's the MAC Novel Twist collection! Novel Twist features adorable mini boucle makeup bags, and custom product casing all featuring light pink or baby blue "yarn" twisting around the bags and compacts. The colors in this collection are fresh and fun, and only available at Nordstrom!
Gadabout – Mid-tone yellow pink with white pearl (frost)
Spree – Pink champagned taupe (cream)
Springly – Freshwater oyster pink (frost)
Wander – Sheer chocolate brown (cream)
LIP PALETTES
EYE PALETTES
Warm Eyes

Cool Eyes

EYESHADOW

Beauty Marked
Deep Truth
Novel Twist
Phloop!
Twirl Twirl
Stray Grey – Grey mauve (cream)
Painterly – Nude beige (cream)
Delft – Deep teal with gold pearl (frost)
Stringalong – Warm mid-tone brown (cream)
Artifact – Dark burgundy with red pearl (frost)
Indianwood – Metallic antique bronze (frost)
Out of Bounds – Neutral mid-tone brown (satin)
Whim – Bluish soiree pink (satin)
BEAUTY POWDER
Softdew – Neutral brown rose
Sun Twist – Warm peach
BRUSH SETS
Pearlizer plus brush and bag
Basic Brushes

BRUSHES

129SE
190SE
224SE
242SE
266SE
Basic Brushes Cube Bag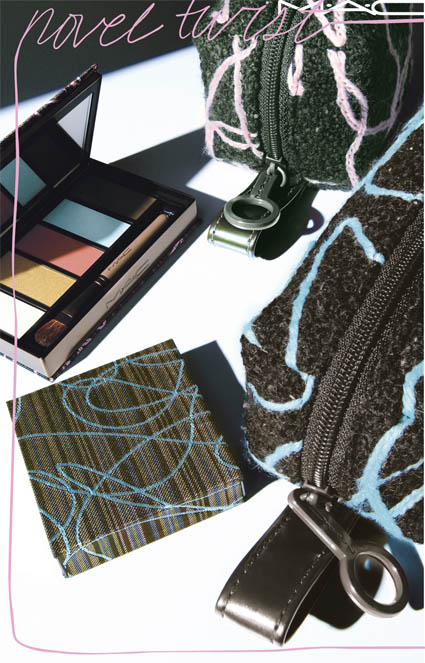 If this page was helpful, please link to us! Simply copy and paste the following code:
You may also want to
join our mailing list
.
Tags:
If you liked this post, you may also like:

Fatal error: Call to undefined function related_posts() in /home/sokissa/public_html/wp-content/themes/brightside/single.php on line 73